Education Support Program
This wonderful teaching program is set in the picturesque coastal fishing village of Tianyar in north eastern Bali. This is the true Bali – set away from the over-crowded and fast paced tourist meccas found elsewhere. Here volunteers will find peaceful villages and families far away from the tourist dollar. This teaching program supports these wonderful, but impoverished families, enabling their children to learn the skills required to better enhance their futures. Volunteers on this program will have plenty of time to fully experience all that Bali has to offer – giving a 'behind the scenes' look at real life in this wonderful location. As a tourism hub, those seeking employment in Bali find that English is an essential skill, one that they must speak fluently and confidently. This program supports this need – providing volunteers to work with local children and set the foundations for a better life. This project is a great way for international volunteers to learn more about the Balinese people and culture, teach those in need and spend time exploring this magical location.
Goals of this Project:
Provide free English lessons to children in Tianyar village
Expose non-English speakers to native English speakers in order to improve pronunciation and conversational skills
Teach creatively and create a love for learning among the children
Expose volunteers and locals alike to different people and cultures
This amazing program is set in a dedicated learning center on the beautiful Balinese coast. The center provides free English classes to the approximately 120 village children. Volunteers will teach students ranging in ages from 5 – 18 years, starting at the basics and moving to writing and grammar. Volunteers are encouraged to put their own personality into the lessons, create their own lesson plans and incorporate new learning techniques and experiences for the students. Fun and creative lessons are encouraged and well received. At the center, volunteers will be supported by local staff with classes running from Monday to Thursday, giving participants the added bonus of 3-day weekends to explore the magical island of Bali! With the knowledge and confidence to partake in conversational English with foreigners, these children will have the tools for a brighter future. It is recommended that volunteers research teaching English as a second language techniques and creative ways to do so before embarking on this epic adventure! 
Volunteers will contribute in a number of ways and can expect to undertake the following tasks:
Teach English to students ranging in ages from 5 – 18 years
Teach other basic subject matter in English
Play games and run activities
Teach students about their own lives and countries
Love Volunteers welcomes all those 18 years and over who wish to help create a brighter future for children through the power of education. This project best suits those with experience and/or qualifications in the field of childhood development and education, though volunteers who simply wish to explore an interest in this field are also welcomed as there are many ways you can assist in the classroom. Whist not mandatory, completing a TEFL course prior to joining this project would prove to be highly beneficial. Ideally, volunteers on this project will have at least a basic knowledge of the local language in order to communicate effectively with staff and students, though this is not a pre-requisite. Importantly, all applicants must first and foremost have a genuine willingness to help, show drive and initiative, and bring a positive 'can-do' attitude. If this sounds like you, we want you on the team!
A B211a visa is required to volunteer in Bali. In order to process the visa volunteers must provide the following:
Colour photocopy of your passport
Passport style photo of your face.
Proof of vaccination certificate.
Proof of health/travel insurance.
Signed COVID statement letter.
$270 fee to a credited visa organisation in Bali (included in the program fee)
Additionally, volunteers applying to join this program will be required to supply to following documentation:
Emergency contact
Police check
Tianyar is a small, picturesque fishing village located in the northern part of Bali, far away from the typical tourist path and a paradise of tranquillity. Although this is a quiet corner of Bali, from here volunteers can use their free time to quickly and easily explore all tourist destinations by motorbike or by taxi, including the famous scuba-diving hubs of Tulamben and Amed. Our other project hub of Ubud is just 2 hours' drive from this location.
Within walking distance of the village projects there are some wonderful things to see and do, including walking along the pristine beaches, swimming, snorkelling! This is a truly special place to be a Love Volunteer!
This project is available year-round and arrival is every SUNDAY. Volunteers can choose to participate for periods ranging from 1 week to 6 weeks. Longer stays can be arranged directly with the local team, but will be subject to availability and individual visa conditions.
For current available start dates please check the calendar on the right.
Upon arrival into Denpasar you will be met by a representative from the local team. The first night's accommodation is provided at a volunteer Guesthouse in Ubud.
On Sunday an orientation session takes place which covers local and regional customs, transport, rules and recommendations and, of course, what to expect from your volunteering placement. Following the orientation you will be taken to your project location to meet with the local supervisor and enjoy a tour of the village.
Arrival Day: SUNDAY
Departure Day: SATURDAY 
Arrival Airport: Ngurah Rai International Airport (aka Denpasar International Airport), Kuta, Bali (CODE: DPS)
Accommodation & Meals
Guest House / Meals Included
Volunteers on this awesome project are accommodated onsite at the Learning Center in a dedicated volunteer guest house, located just 100m from the beach!
Rooms in the Guesthouse accommodate 2 - 4 volunteers and are split by gender. Each room has a western style bathroom, ceiling fans and bed linen is provided. Volunteers should bring their own towel and toiletries.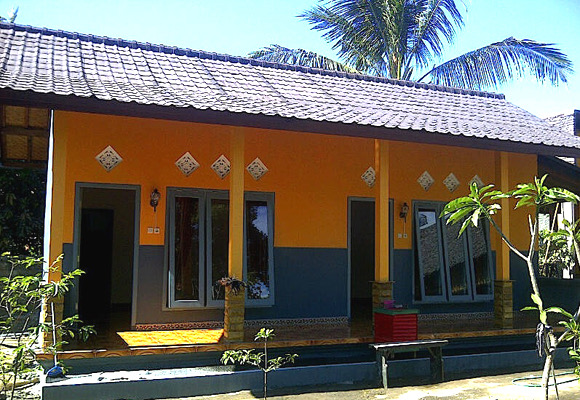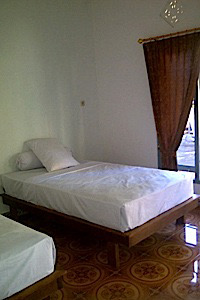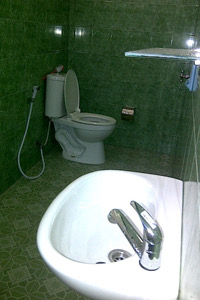 Laundry services are available for a small fee and bicycles and motor bikes are available for hire. Wi-Fi is freely available in the Guesthouses so staying in touch with friends and family is easy.
Breakfast, lunch and dinner are provided on volunteering days (Monday to Thursday). Meals are made from fresh and delicious local fare. On Friday, Saturday and Sunday volunteers are free to spend time exploring or relaxing and meals are self-catered. 
That's just
USD 101

per day* for:
*In addition to the program fees listed above a Registration Fee is payable to secure your place. The registration fee is USD 299 for those volunteering with Love Volunteers for the first time or USD 149 for any subsequent volunteer placements. The registration fee includes: lifetime LV Alumni Membership, fundraising support & advice, dedicated pre-departure support, certificate of completion (on request), and exclusive access to the LV Trip Planner.
Some things are not included in the program fees listed above, such as flights, visas, vaccinations, travel insurance, additional foods and snacks, spending money, local transport, in-country trips and excursions, return airport transfer (unless mentioned above).
Please note that prices are subject to change without notice. Please ensure you have read the Love Volunteers Terms and Conditions & Refund Policy.