The aim of this program is to support children from families who were affected by genocide and those from some of Rwanda's poorest families, through the provision of school fees, school materials, and education. Love Volunteers partners with a charity that ensures that each child has a school uniform, shoes and access to organised education. Volunteers are desperately needed at the primary school, which teaches children up to the age of 11, to both assist local teachers in the classroom and to take their own classes. Subjects can be taught depending on each volunteer's skills and interests, with teaching English, IT, French and sport the main priority here.  Volunteers play an invaluable role in teaching children and supporting their educational needs, helping them to increase their chances of higher levels of education and the chance for future employment and a brighter future.
Goals of this Project:
Provide English language skills to children in impoverished Rwanda
Teach and interact with marginalized children in Africa
Improve the future prospects of some of Rwanda's most impoverished children, and help them to break the poverty cycle
Expose children to different people and cultures
Volunteers play an essential role in helping improve the education of the impoverished children of Rwanda. On this program volunteers provide invaluable support to teachers in over-crowded classrooms, or may even be able to take their own classroom. Children benefit hugely from the contact with people from other cultures, and improve their English skills greatly.  In addition, volunteers will assist with teaching IT, Sports and French, and spend time creating other activities for the children, providing an immensely rewarding experience for both volunteers and children alike. Volunteers on this program will generally work from 8am to 4:30pm Monday - Friday.
Volunteers will contribute in a number of ways and can expect to undertake the following tasks:
Teaching English and other subjects to children attending the school
Assisting teachers and volunteers in classes
Teach subjects the volunteer has an interest in (i.e. sport, music, art)
Helping teachers translate materials
Create games in English for the students and spend time playing with students
Requirements
18yo+ / Qualification / Experience
Love Volunteers welcomes all those 18 years and over who wish to help create a brighter future for children through the power of education. This project best suits those with experience and/or qualifications in the field of childhood development and education, though volunteers who simply wish to explore an interest in this field are also welcomed as there are many ways you can assist in the classroom. Whist not mandatory, completing a TEFL course prior to joining this project would prove to be highly beneficial. Ideally, volunteers on this project will have at least a basic knowledge of the local language in order to communicate effectively with staff and students, though this is not a pre-requisite. Importantly, all applicants must first and foremost have a genuine willingness to help, show drive and initiative, and bring a positive 'can-do' attitude. If this sounds like you, we want you on the team!
Additionally, volunteers applying to join this program will be required to supply to following documentation:
Emergency contact
Police check
Resume
Rwamagana is about one hour east of the capital, Kigali and is a relatively big town by Rwandan standards. Many cities are accessible from Rwamagana, including Kilgali which has a number of interesting museums, Cyangugu where Obo National Park is one of the main tourist attractions, Gisenyi where you will find Gishwati Forest, and of course Gikongoro which is home to National des Volcans and Parc National Nyungwe Forest.
The Genocide Memorial in Kigali provides good insight into one of the world's greatest tragedies. This excellent museum is laid out in three sections. The first contextualizes the Rwandan genocide, detailing the events leading up to it and the international response. The second section brings it into the wider context of genocide in other countries and the third is a heart-breaking tribute to the children that died.
Situated in the far northwest of Rwanda, the Parc des Volcans is home of the rare mountain gorilla. This is Rwanda's biggest tourist attraction, and at $500+ for one hour with the gorillas it is also a substantial earner. If you can afford it it's an excellent experience, and even possible as a day trip from Kigali. However, make sure you book your permit in advance as there are a limited number issued each day. A gorilla visit can entail a 1 to 4-hour trek through the forest, led by experienced trackers who have spent their entire lives living in or close to the forest.
This project is available year-round and programs start every SUNDAY. Volunteers can choose to participate for periods ranging from 2 weeks to 12 weeks. Longer stays can be arranged directly with the local team, but will be subject to availability and individual visa conditions.
Spaces on this project are limited and therefore subject to availability. Early booking is recommended.
For current available start dates please check the calendar on the right.
Upon arrival into Kigali International Airport volunteers will be collected by a representative of the local project team and transported to their guesthouse accommodation where they will join a short welcome session. On Monday, volunteers attend the full orientation session where a representative from the local team will fill you in on local and regional customs, traveling, rules and recommendations, and of course, what to expect from your volunteering experience in Rwanda. This is a great opportunity to get to know your hosts, meet your fellow volunteers, and ask any last questions you may have.
Program Arrival Day: SUNDAY
Program Departure Day: SATURDAY
Arrival/Departure Airport: Kigali International Airport, Kigali, Rwanda (CODE: KGL)
Accommodation & Meals
Guest House / Meals Included
Safe and comfortable accommodation will be provided during your stay in Rwanda. Volunteers have the unmissable experience of living within the community which is a great way to experience cultural immersion. Volunteers will be accommodated at the project operations base guesthouse or at a nearby independent guesthouse. It may be necessary for volunteers to share a twin room depending on how many people are participating at the same time.  Linen is provided. The shared rooms will be split by gender. If necessary it may be possible to secure a private room (additional fees apply).
There are internet cafes close by to the guesthouse.
Breakfast and dinner will be provided at the guesthouse during your stay, and lunch can be bought cheaply at local markets, street stalls and cafes. Volunteers are welcome to buy bread and other snacks as required, and are required to buy their own drinking water. Your hosts will provide you with a selection of local Rwandan foods during your volunteer period, but you should not expect to eat as you normally do at home. This might take some adjusting to but is part of life in Rwanda. If you have special eating needs, please let us know ahead of time so that we can make arrangements for you. We will do our best to see that you are well taken care of, but also as a volunteer, there is a need to be flexible.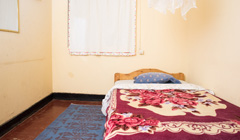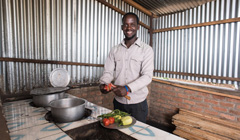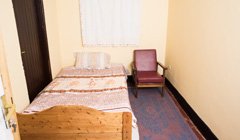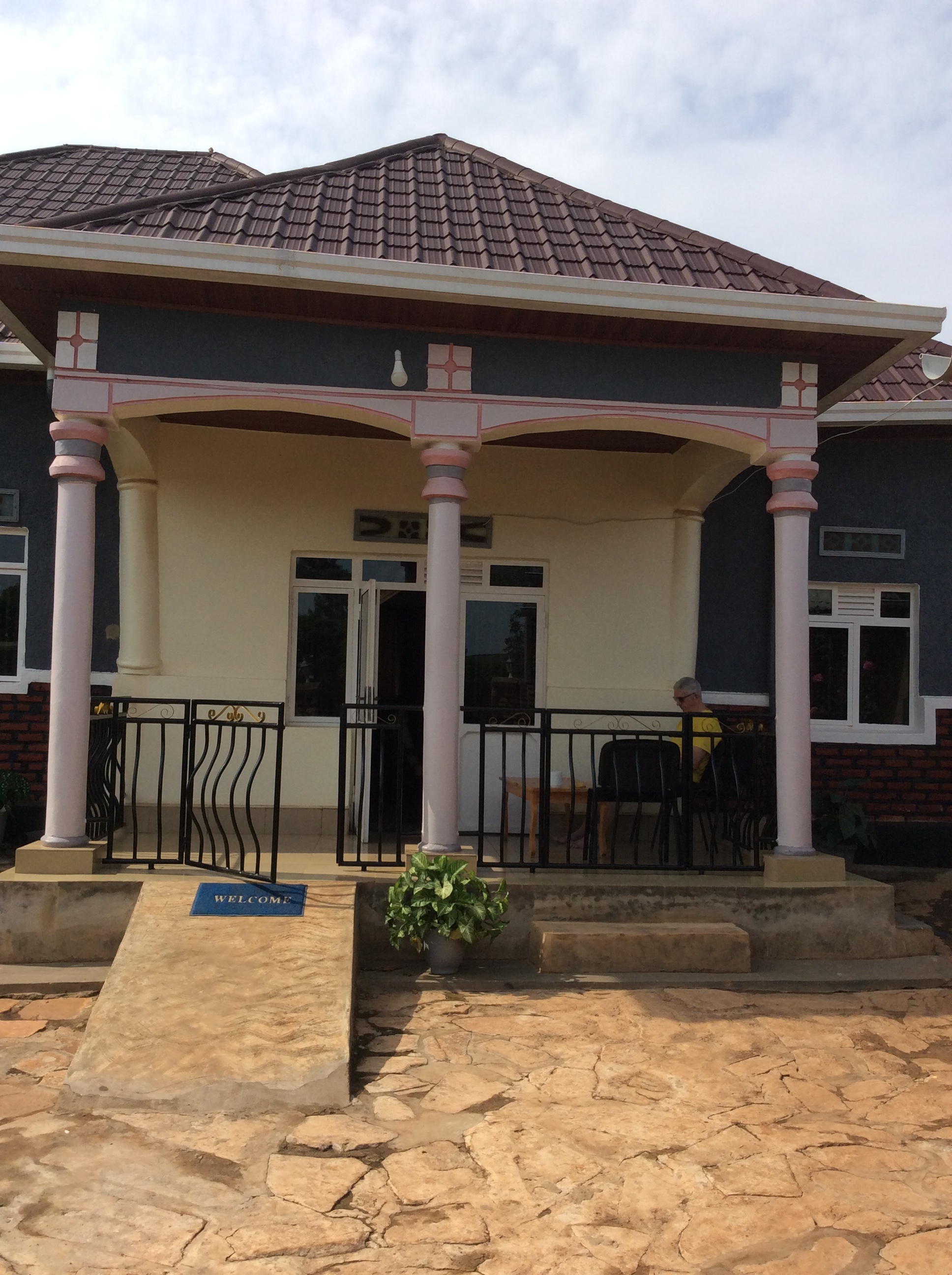 Please keep in mind that living conditions are basic and running hot water is not common in Rwanda which is part of the challenge and experience of volunteering in a developing country. With a little patience, and a flexible attitude, you will quickly get used to your new surroundings.
That's just
USD 27

per day* for:
*In addition to the program fees listed above a Registration Fee is payable to secure your place. The registration fee is USD 299 for those volunteering with Love Volunteers for the first time or USD 149 for any subsequent volunteer placements. The registration fee includes: lifetime LV Alumni Membership, fundraising support & advice, dedicated pre-departure support, certificate of completion (on request), and exclusive access to the LV Trip Planner.
Some things are not included in the program fees listed above, such as flights, visas, vaccinations, travel insurance, additional foods and snacks, spending money, local transport, in-country trips and excursions, return airport transfer (unless mentioned above).
Please note that prices are subject to change without notice. Please ensure you have read the Love Volunteers Terms and Conditions & Refund Policy.
COVID-19 requirements:
Full details on the Republic of Rwanda Ministry of Health website here.